read in 9 minutes
POSTED: Sep-09-2020
Best Tips on How to Hire Developers for a Startup and Not to Spend a Fortune
You're not a tech person, and you don't know the first thing about hiring developers for your startup? You have no clue how to approach it, and got a feeling as it's rocket science? As far as you know, finding a good programmer is like finding Mr Robot.Being a startup, attractive luxury packages may not fit well in your budget.So, a little frustrated, you google for some hiring tips and insights.No worries, it's actually a good start. You already found the right place. In this article, I'll guide you through the most important questions in hiring a software development team, help to outline the hiring plan and of course, cover the cost issue.
WHY

DO YOU NEED TO

HIRE DEVELOPERS

FOR YOUR

STARTUP?
1. High level of expertise
Some of the startup founders often do not understand technical aspects, although being strong at management, negotiations, the product itself, etc. Thus, the first tech hire is the most difficult. But no less important.

Some outsourcing companies, like Ameware Group, offers a tech consultant, who will assist you through the process. This is an effortless option for you. The consultant will offer a few CVs for your convenience. All of the candidates will be already technically interviewed and tested. You can participate during the interview, or schedule your own.

The best thing about it, that Ameware won't ask for payment unless you will be happy to hire one of the candidates (or even a team).
2. Costs alternatives
That's usual for a startup to have a limited budget. Therefore, you cannot allow yourself the luxury to hire a wrong person. Sadly, this kind of unsuccessful investment can ruin your business. Frankly, you really need to find a reliable and highly skilled developer. Only then you'll get back the money you invested on the initial stage of the startup.

Known fact: Professionals are expensive.

Although, there are options to find price-quality balance. For example, you could hire a junior from the USA or EU countries with a suitable stack, or for the same money, you could find a senior from a country in Eastern Europe or South Asia.
3. What kind of specialist do you want to hire?
Before you start looking for a developer, you gonna need to decide which programmers do you need? Nowadays, the choice is wider than ever: mobile developers, web developers, designers, DevOps, database developers, Full-stack, IU developers, etc.

Here is a tip. Some work does not require senior coders. Occasional tasks related to social networks and newsletters are more rational to put on the SMM specialist.
STAGES OF HIRING

SOFTWARE PROGRAMMERS.
1. What goals do you want to achieve?
It's time to set your goals! To do that, you gonna have to answer the following questions:
Whether you need a developer?
How much time are you ready to spend on hiring?
What technical stack do you require?
What skills a developer must have?
Do you need one specialist or a full team?
Do you want to hire them under a contract, or expand staff, or outsource?
2. How to create a project base and business plan
The next step sounds fairly simple, but it's a very important one. And you're the only one who can do it because you know your project better than anyone.

Create a full and the most detailed description of how you see the final version of the project. Pay attention to making it clear and structuralized. There must be a complete list of options and features that you want to see when your startup goes live. At this point, you can also think of the importance of each feature: which one should be included in MVP, and which one will go straight to the full product. Aka must-have list and nice-to-have list.
3. Timeline and budget
The next step is to map your business plan for the development. So, it's time to answer some more questions.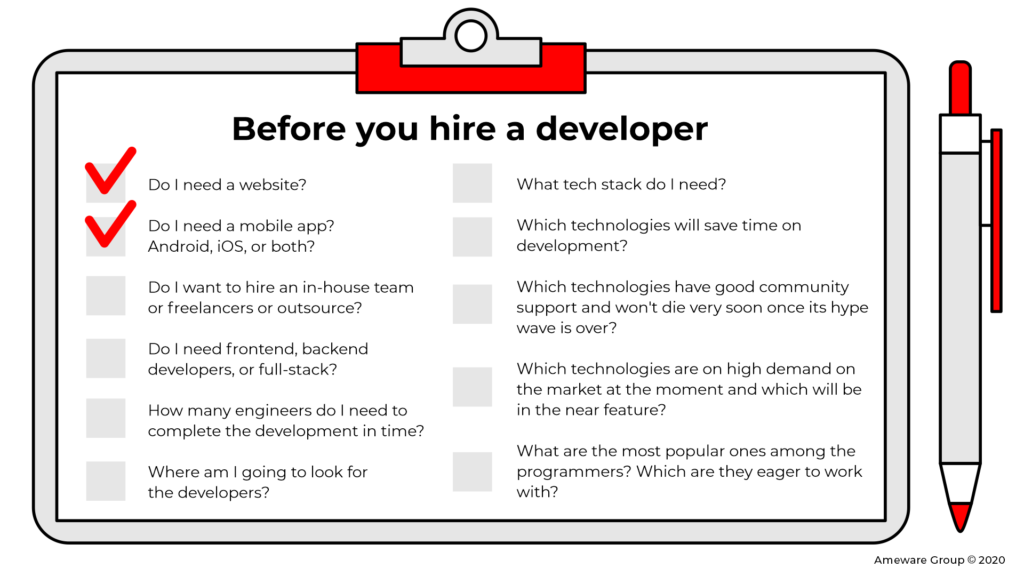 Some startup founders cannot answer these questions on their own, and that's ok. There're many companies on the market which can help. You can schedule a call to get a consultancy service. Some companies can even help with hiring and team management.
4. Where to find a company with developing services
No matter what you choose: in-house team, freelance, or outsource, I need to do some homework. Always check their experience, finished projects, technologies they used. How does all of it match with your project and expectations?
5. Creating a job description
To get started with a job description, figure out the programmer's task, describe it in plain language. When describing a position, try to do it as thoroughly as possible.

A standard set of facts of the description is:
description of the type of activity;
work schedule and location (office, or remote work).
6. Find some developers who can work on a startup, and give them testing tasks
You're eager to start the development, you cannot wait to bring your amazing idea to life. The only thing that stopping you is the absence of the developers. You might've gone through a lot of reading to decide what's skill evaluation process fits for your project, and you ended up with a test task.

Often, it's the only way for programmers to prove that their CV matches their real experience.

In case you're hiring a junior developer, it makes sense to use resources like Codility or Devskiller. These help to check candidates' basic skills set like understanding basic algorithms and data structures.

In case of hiring a middle and a senior developer, you would want to test them with a task which proves their experience with technologies required for your project. Pro-interviewer tip: don't ask a candidate to implement super difficult algorithms for sake of testing! Test only the skillset required for your project.
7. Be prepared to interview the programmer before hiring
A job interview usually holds on Skype, Zoom, or Google Hangouts. There is no substitute for personal communication. There you can discuss all the details of the project and maybe even hear some suggestions and improvements' ideas.

Ask the right questions. Let the candidate clearly understand your intent. For example, you may ask which technologies has the candidate used in his previous project. In case you are not rooted in technical details, ask why these technologies are the most useful there, and how your startup might benefit from it. Ask what are the advantages of these compared to others. Also, you might consider asking the candidate how he would improve your project. For the better results, think about all the questions you want to ask before the interview.

As a result of that conversation, you can conclude whether a specialist is suitable for your startup.
WHAT WAYS CAN WE BE IN

HELP

FOR YOU

IN HIRING DEVELOPERS?
1. UI/UX design
One of our services is UI/UX design. Do you wonder what is it?

UI/UX design is a practical test of the product. In the UI/UX design process, it is discovered how functional the product is, how adaptive it is to different devices and displays. That means work on an easement for the future user. You would be able to receive real-time feedback from potential users and make corrections. The result of UI/UX design is the formation of the product's prototype.

Of course, not all products require UI/UX design, but if you think you need it, it is advisable to hire a designer before the developer.
2. Business consulting
Another of our many services is consulting. What can we do?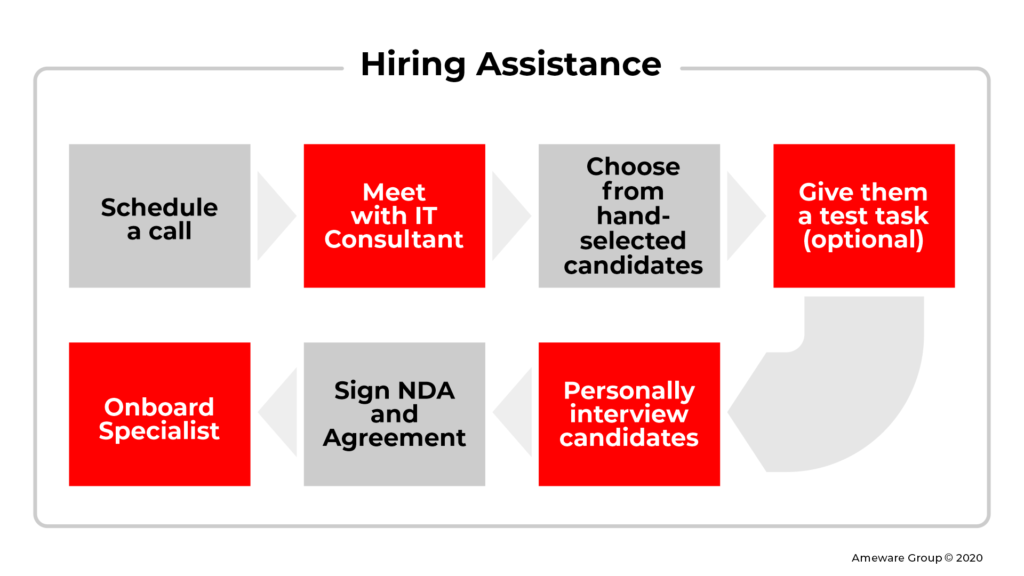 Take a fresh, unbiased look at your business is always a good idea. Your startup might be like a beloved child for you. While admiring the project, you don't want to see its weaknesses. A person from the outside will help with a fair assessment of the project. He/she will indicate which steps are unproductive and will save your business from emotional decisions. Your task is to get feedback, to find shortcomings from an outside perspective. The truth may seem bitter, but you'll quickly return to the road to success, thanks to the qualified suggestions.

Budgeting is also an important point. As mentioned above, the budget of a startup is limited. Therefore, hiring an expert in planning expenses will help to optimize your spending.

Besides, some consultants can help you to build relationships with the right people, important for promoting your product. These are developers, lawyers, HR specialists. Also, a consultant can establish your communication with journalists, bloggers, and other influencers.
CONCLUSION.
Hiring developers for a startup may not be easy. However, there are some options to simplify the process.

First, carefully consider technologies you want to use in your project. Apart from fitting well for your startup, they also must be trending. It will be a great bonus when you post your positions. Developers want to work and grow in technologies that have a future.

Second, work out your business plan before you map it for development.

Third, thoughtfully create job descriptions, think of the number of developers you need to meet your timeline. Prepare yourself for the interview: make a list of questions, write a test task that will check skills important for your project.

If you're not a tech person and don't feel confident in hiring then use consultancy services. Some of them specialize in startups. You may as well check out Ameware Group's service for a startup while you're here.
---