read in 15 minutes
POSTED: Sep-07-2020
MVP Development Costs: What Do You Need to Know?
A minimum viable product (MVP) development allows you to avoid extra business costs and validate with less effort if an idea can plant some roots. In one hand, you have an excellent idea you love, and on the other, your worries if customers willing to buy it.Here the MVP approach comes. Without paying in full for a product that might not succeed on the market, you can gather customer's feedback. Besides, you can attract some investors to your idea, submitting MVP on crowdfunding platforms such as Kickstarter, Gofundme, Indiegogo, etc. If you want to know more, bear with me, I'll break it down for you.
1.

STAGES

OF MVP WEB DEVELOPMENT.
MVP development traditionally includes three stages: Build – Measure – Learn. Build: product developed and tested. Measure: feedback is collected. Learn: received feedback becomes the basis of creating the solution which complies with the needs of the target audience.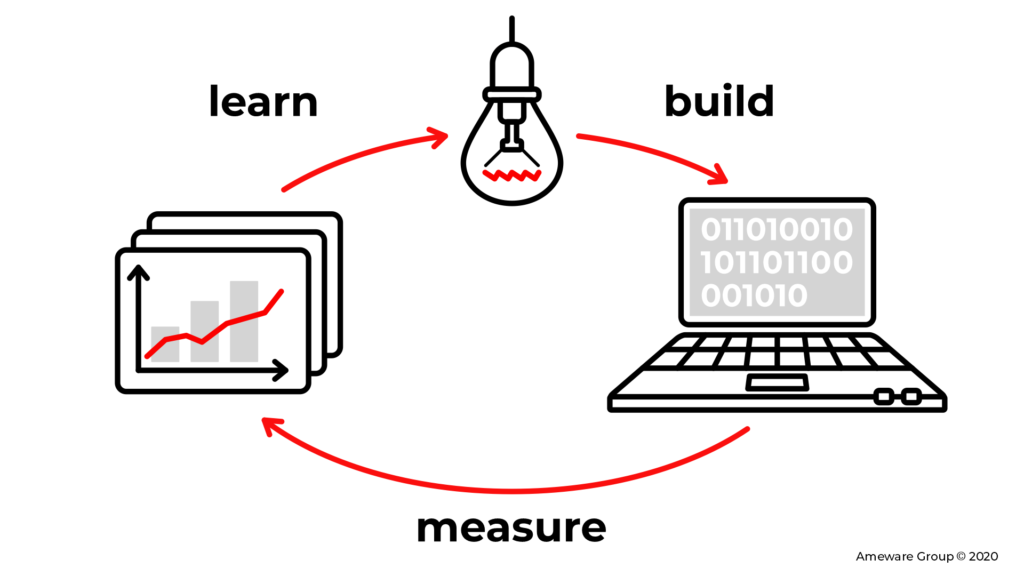 2. MVP APP

DEVELOPMENT IDEAS.
2.1. Fitting your budget to do it well
When creating an MVP app, it is hard to find a balance of costs and product features. Especially if a startup founder isn't a technical expert, thus, he or she would have a very vague idea of the process cost and the cost of MVP in particular. Don't panic; here are some tips.
Find an experienced tech advisor you trust.
An MVP app must be viable. Do not cut the expenses on quality.
Exclude all superfluous features. Concentrate on the primary aspect, make it shine.
Simple but attractive design.
Do not disregard marketing and testing expenses.
2.2. Become valuable for customers by building MVP
Some teams hired to build MVP don't fully understand the concept and concentrate only on minimal functionality. They mistake it for Minimum Marketable Feature (MMF) or Minimum Marketable Product (MMP). However, these terms are about gaining a profit. No harm in it unless the team forgets about the "viable" part of MVP concept; the result of MVP development must have sufficient quality to acquire accurate feedback.
2.3. Average business costs
I'll get to the numbers soon. Before that, I'd like to point it out that there is no consensus on the cost of MVP development. Whatever you choose an in-house team, or freelance, or outsourcing company to develop your product, it will cost differently. However, in general, your expenses consist of design, development, testing, marketing, and advertising. Also, it might include crowdfunding platform costs if applied.

After the launch, the app will require support.
3. MVP LAUNCH

PRICING.
Successful MVP project software development highly depends on the team you hire. You want to find skilled, experienced, and motivated specialists, who implement your idea in time and the best way possible. Sounds great, doesn't it? Let's see where to find your dream team and do not overpay.
3.1. Development by in-house staff
For a startup that has just begun, for some inexperienced founders, an in-house team sounds like the best option. Let consider its pros and cons.

+ An in-house team give you more transparent relationships, clear communication. You'd also gain simpler coordination. Yet, the quality would be on your shoulders, too.

– Startup budgets are often limited. A team working in usual conditions will not agree to get paid below a certain level. You'll have to pay holidays, huge hiring costs, sick leaves and soon.
Breakdown:

According to glassdoor.com, Senior Full Stack Developer's average rate is $114,395/year, which means around $9,532.9/month.

Designer's average rate is $52,691/year, which means around $ 4,390.9 /month.

Tester's average rate is $63,070/year, which means around $ 5,255.8/month.

Project manager's average rate is $66,137/year, which means around $ 5,511.4/month.

In total, an average in-house team costs $24,691/month. Expensive, isn't it?
3.2. Development by freelancers
+ The cheapest way to create an MVP app is to hire freelancers. There are many different resources for hiring freelancers on the Internet, such as freelancer.com, upwork.com, and fiverr.com. You can find employees according to your criteria.

– The main obstacle with freelancer's option is that you are not under contract. They are not obliged towards your project, and they can leave you at any time, especially if something goes wrong. All coordination, communication, management, and responsibility are on you.
Prices breakdown:

Here is rates' insight according to aggregated data from the top freelance platforms. Since the freelancers bill in hours, you can hire a designer for as long as you need. For example, a couple of weeks. You most definitely save some money on it.
Senior Full Stack Developer's average rate is $6000/month
Designer's average rate is $5000/month
Tester's average rate is $2,500/month
In total, if your project development takes 3 months, then the monthly rate is $9,340/month. Fairly cheap, but what about the quality?
3.3. Outsourcing development
+ Outsourcing your development offshore represents good value for money. Outsource is always cheaper than in-house, and, at the same time, you don't need to deal with individuals as in case of freelance. If you choose an outsourcing development company wisely, you'll get a qualified team, who went through many projects together. Besides, some outsourcing companies, like Ameware Group, offer you a free of charge a technical manager. So, you can get this off your shoulders, too.

– It is crucial to study the background of the agency before starting cooperation. Please pay attention to their portfolio, interview some of the candidates yourself to check their English level and experience with your project tech stack.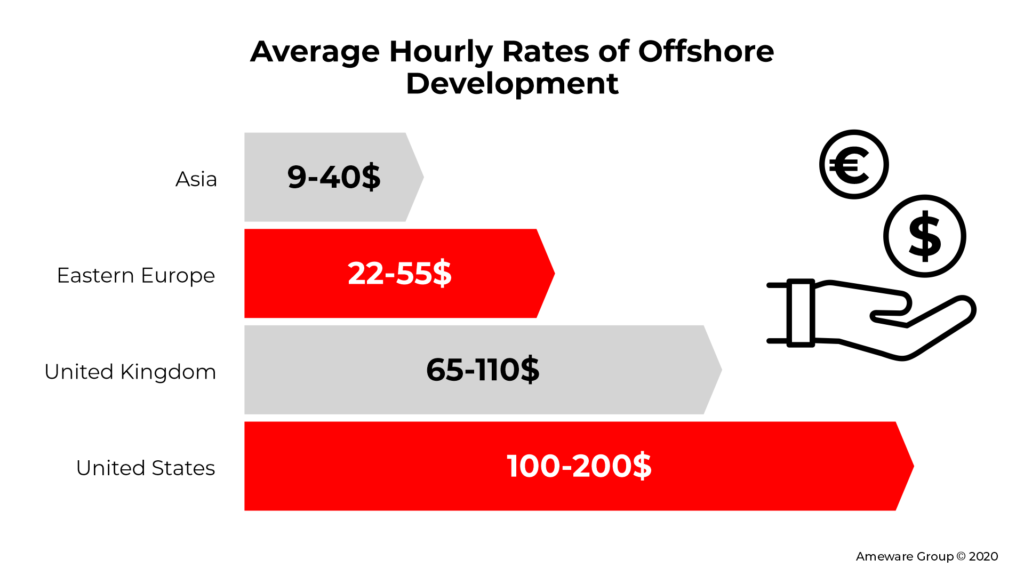 As you see, the rates vary from country to country. As an example, here is a breakdown for an average Eastern Europe country:
Senior Full Stack Developer's average rate is $7,000/month
Designer's average rate is $6,000/month
Tester's average rate is $2,500/month
Project manager's average rate is $5,000/month
In total, if your project development takes three months, and you need a designer only for the first month, then the monthly rate is $16,500/month.
3.4. Local companies' services
The cost of local companies is high. At the same time, you get a dedicated development team, a project manager, and the option to test professionally the solution for the money invested. In case if you intend to find such an agency, use Clutch.co or GoodFirms.com. There are you would find ratings and feedback from past clients that would help you to understand how professional and honest the team you hire.

To give a brief idea of how pricy this kind of service, their starting hourly rate is $100-$120. That is a minimum of $70,000/month. Not bad for testing of a business hypothesis.
4.

POST-DEVELOPMENT

COSTS

.
4.1. MVP Marketing
MVP marketing is about how to sell a product which is not fully complete, read you don't have a brand you can rely on. No one knows it. And if it's also a startup, a company name wouldn't ring a bell either. Potential customers don't know and don't care how much you put the effort into your product. It's all about what you can offer to them.

With zero reviews and zero feedback that a customer can rely on, how would you prove that your product does what you say it does? Simple "Trust me" isn't enough. So, you are starting from scratch.

For MVP, engagement is critical. For the best results, you rather aim to quality, but not quantity. Many MVPs succeeded on early stages, say having a lot of downloads of a mobile app. But it shouldn't be the only measure. The customers could abandon the app quickly, without a new wave of downloads after them.

Be honest with a customer; don't advertise the features you don't have. Only imagine customers' disappointment when they paid for an app which doesn't have all the offered functionality just yet. They would not tolerate this. And getting rid of the reputation of a startup which took advantage of a customer is not easy to erase.

Essential to tell a customer what they need to hear. Don't go over your head by describing every aspect of your awesome product. Tell them what they need, meaning a core value proposition. Take Uber as an example. It has started as an MVP, too.
4.2. MVP Support
As practice shows, the MVP Support costs about 20% of the MVP development budget. The number may change because of the complexity of the app. Also, it depends on the size of the staff, and the experience of the developers.
5. CONCLUSION.
After launching your MVP, you accumulate the user's feedback. They can tell where the product is lacking functionality, and they ensure market validation. This approach helps you generate new ideas grounded in user behavior research which will shape the subsequent versions of your product. It is vital to continue to test, learn, and measure, and then test again until the product is perfect.

This article gives you all source of information on how to choose a team, where to hire it, prices, and some intro on the marketing of your MVP. Best of luck with your awesome idea. I hope to hear from you soon at Ameware Group.
---