read in 4 minutes
POSTED: Oct-13-2020
Are You Ready for the Second Wave or How We Adapted Our Outsourcing Company to the COVID-19 Reality?
About four years ago, CTO of Ameware Group, Paul, who is a tech geek in heart, got tired to listen to his employees' complaints like "My hard drive got crashed! I lost all day of work because of it!" or "Oh no, my laptop doesn't see RAM no more!" He heard over and over through the years, each time wincing as from a toothache.The problem arose even bigger when Ameware had secured an amazing Big Bata project. The thing was some of the workers' laptops just weren't as powerful as needed. Paul had to send the Big Data team members new laptops and got himself thinking, was there any better way to do it? What if he creates secure hosting for all Ameware teams where he could allocate required resources and back up every developer's VM on a daily basis?In the COVID-19 reality, when everyone switching to remote working, Ameware Group wants to share their experience, how they made remote work hassle-free and more reliable.
SAVE MONEY

DURING THE PANDEMIC
By the fall of 2020, it became hard to find an economy which didn't suffer from COVID-19 crisis. Fair to say that this situation has hit hard many businesses, so they have to cut expenses. Ameware Group has proven how to optimize hardware costs and remote working process to achieve more stable results and client's appreciation.
Ameware Group solution is quite reasonable — use in-house VM hosting. Thus, Ameware doesn't need to buy expensive, powerful laptops no more. With Ubuntu as guest OS and an opensource hypervisor, the licensing costs nothing.
RELIABILITY OF IN-HOUSE

VM HOSTING
To simply put it, instead of worrying about every developer machine's wellbeing, Ameware established its own servers, which host virtual machines. Every developer has access to his/her VM, securely protected by regular security updates, enterprise-grade encryption and de-facto industry-standard OpenVPN. If something happens to a worker's laptop, all data will be safe on the Ameware servers. Besides, the servers also have daily backups, in case if something happens to one of the servers. All Ameware Group clients rest assured, knowing that their outsourcers' environments are reliable and secure.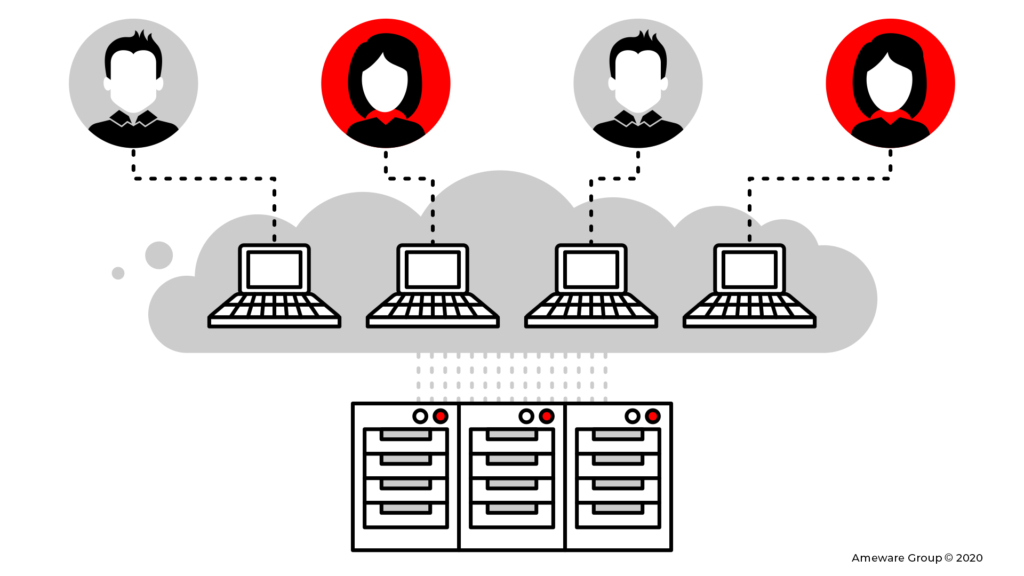 FEATURES

OF AMEWARE GROUP HOSTING
Multiple broadband providers
To provide stable, fail-safe access to the virtual machines for all workers, Ameware servers connected with multiple Internet providers. If one broadband connection is lost, then configuration automatically switches to another provider's network and keeps up the good work of the developers without noticeable delay.
Security matters
With client's information safety in mind, access to all Ameware virtual machines requires a VPN connection which is controlled by audit and logging.
Accessibly of the workplaces
Ameware Group employees appreciate having access to their virtual machines all over the world, from any devices which have Internet access. If their laptop, hard drive, CPU, RAM, whatever isn't functioning correctly, they can still finish their work using another PC, laptop or even a mobile phone. No matter how powerful their spare device is because all resources they need are allocated to their VM.
Fault tolerance
Ameware Group in-house hosting also provides power backup, scheduled daily backups of every VM and support 24/7.
THE LOCKDOWN

PROVEN VALUE
Ameware Group has been successfully fulfilling clients' needs, as working at Irish and Ukrainian offices and as remotely distributed teams. They have been hiring remote developers long before the lockdown had been set, securing and monitoring employees progress using private hosting.
Years ago, Ameware Group found that some workers are more productive and happy when they write their code at home, cosy leaning back on a sofa. To learn more about remote challenges and solutions, you may read this article.
When the CORVID-19 stroke Irish business and worldwide, Ameware Group management was pleased to acknowledge how hassle-free they were able to switch on the full remote. All the processes were well-defined, and systems were remote-ready, so the employees didn't feel the lockdown as harsh as the others. Taking into account all the changes in our lives introduced since March of 2020, they were delighted to have at least the work sorted. A recent survey shows that 100% of Ameware Group are happy to work remotely even after all the restrictions will be gone.
As from the management point of view, Ameware decided to reduce office space permanently as part of expenses optimization, keeping office workplaces only for the administrative office.
CONCLUSION
COVID-19 and respective restrictions are challenging for everyone. But some can find in it not a problem but an opportunity. It might be business process improvements, cost optimization, or just having a quality time with family. It is only up to you to choose an angle from which you see your reality.
---
IF YOU'VE

ENJOYED THIS ARTICLE,

YOU MAY WANT AS WELL TO

CHECK OUT OTHER AMEWARE GROUP WORKS: